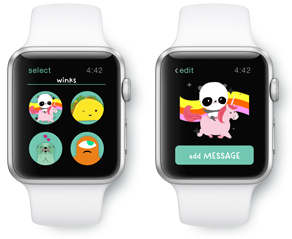 Inject your Apple Watch with equal parts thoughtfulness and hilariousness. The justWink app can send greeting cards and animated messages, all from the comfort of your own wrist.
Greeting Cards -- Just like the justWink greeting cards you'd send from your mobile device, but customized to be sent from your Apple Watch. Sweet! (Literally.)
Winks -- Choose a preset message, or create your own, and have it delivered by a freaking adorable, animated character.